Okay welcome back to another edition of "let's look for the good!"
And today we're looking at: Health and well-being.
And my favourite is my Vitamix!
I have some oranges, some apples, and some frozen fruits, some kale and some ginger in there, so just hold on, it's just about done.
Voila!
All right so now my Vitamix is done because you know, with health and well-being we don't necessarily need to eat chips and popcorn and cookies because we're all cooped up in the house.
We can have some good nutritious food as well and that's good for the body.
But there is also exercise that we can do and it can be as sophisticated as the many machines we have here in the house as well as the other ones that are on the other side of the house but also, you can just sit down and stretch and move around.
Move Your Body!
The body is a thing you live in and if we're looking for the good in things so then let's look for what's good for us, good food, good exercise.
And don't forget that one of the best exercises you can do with your face is to put a smile on it 
Thank you so much have yourself a great day and we'll see you next time.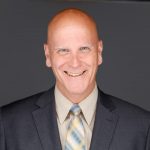 Francois Lupien is a dynamic business success mindset coach, mentor, speaker, and presenter. He works with entrepreneurs and professionals stuck on a plateau who want to add 6 figures to their income – and get results that stick.